Hand Tools Manufacturers and Companies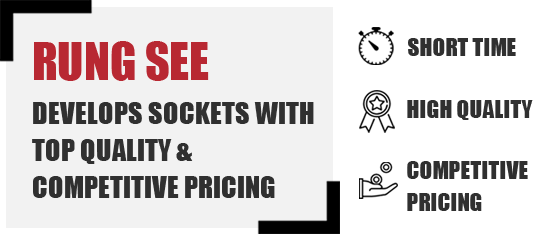 Hand Tools Suppliers & Companies - Rung See Industry Co., Ltd. was established in 1978. The founder, Bob Lai serviced in a Japanese hand tools company in Taiwan in his early age. After accumulating over years experience in the management and production, he decided to start his own business of mechanics tool supply.
The operating philosophy of Rung See is to provide high quality, competitive price and the shortest delivery time. In the early inception, Rung See only produced locking pliers, combination pliers, long nose pliers, such as these clamp category. After years of efforts, Rung See has become one of the main suppliers of universal clamp and wire clamp in Taiwan.

In 1990, Rung See has decided to change the product line to hand socket in response to the market change. Rung See clings to the idea of producing sockets with Japanese quality but Taiwanese price. Its new products were accepted by the market quickly, helping Rung See enjoy another rapid growth.
In order to ensure stable quality, in recent years, Rung See has continued to update and purchased new quality control machines, such as hardness testing machine, electroplating thickness testing machine, microcomputer torque and life testing machine.
In 2005, Rung See set up an office and a warehouse in Mainland China to facilitate sales and marketing, and to meet the needs of the Mainland buyers.
In 2007, Rung See had produced over 60 million pieces of various sockets.The major markets are Europe, the Middle East and Asia. Sixty-five percent of customers have had business relationship with Rung See for more than five years.
To meet customers' demand, Rung See has begun to produce pneumatic sockets and related pneumatic accessories in recent years, and its quality is twenty percent higher than the standard.
Rung See will strengthen cooperation with its customers in new product development and marketing and provide more multiple products to meet needs customers.